Champions on and off the field
Use Code "CATS23" for Discount
Use Code "CATSFLAG23" for Discount
Jr. Cats $150 off Uniforms Discount is already applied.  No code needed.
Chehalis Jr. Cats competes in the Thurston County Youth Football League and travels throughout Thurston County but also host games at the W.F. West High School. Youth athletes begin in Kindergarten as participants in Flag Football and Cheerleading through 1st grade. Youth athletes 2nd -6th grade compete in Tackle Football, with the support of Cheerleaders  in grades 2nd-8th.
Chehalis Jr. Cats Football strives to teach each player to give their very best effort in everything they do.
Success starts with taking care of business at home, at school, and at practice- in that order. Jr. Cats promotes players to be respectful to parents, teachers, coaches and peers, as well as being responsible and accountable. Jr. Cats players are expected to work hard and be the best athlete they can be, but more important a good citizen at school and in the community. 
Jr. Cats believe essential element of character building and ethics in sports are embodied in the concepts of sportsmanship and six core principles:
What does hard work mean to you? "Outwork everybody!"
2018 Varsity Player Joshua Ritzman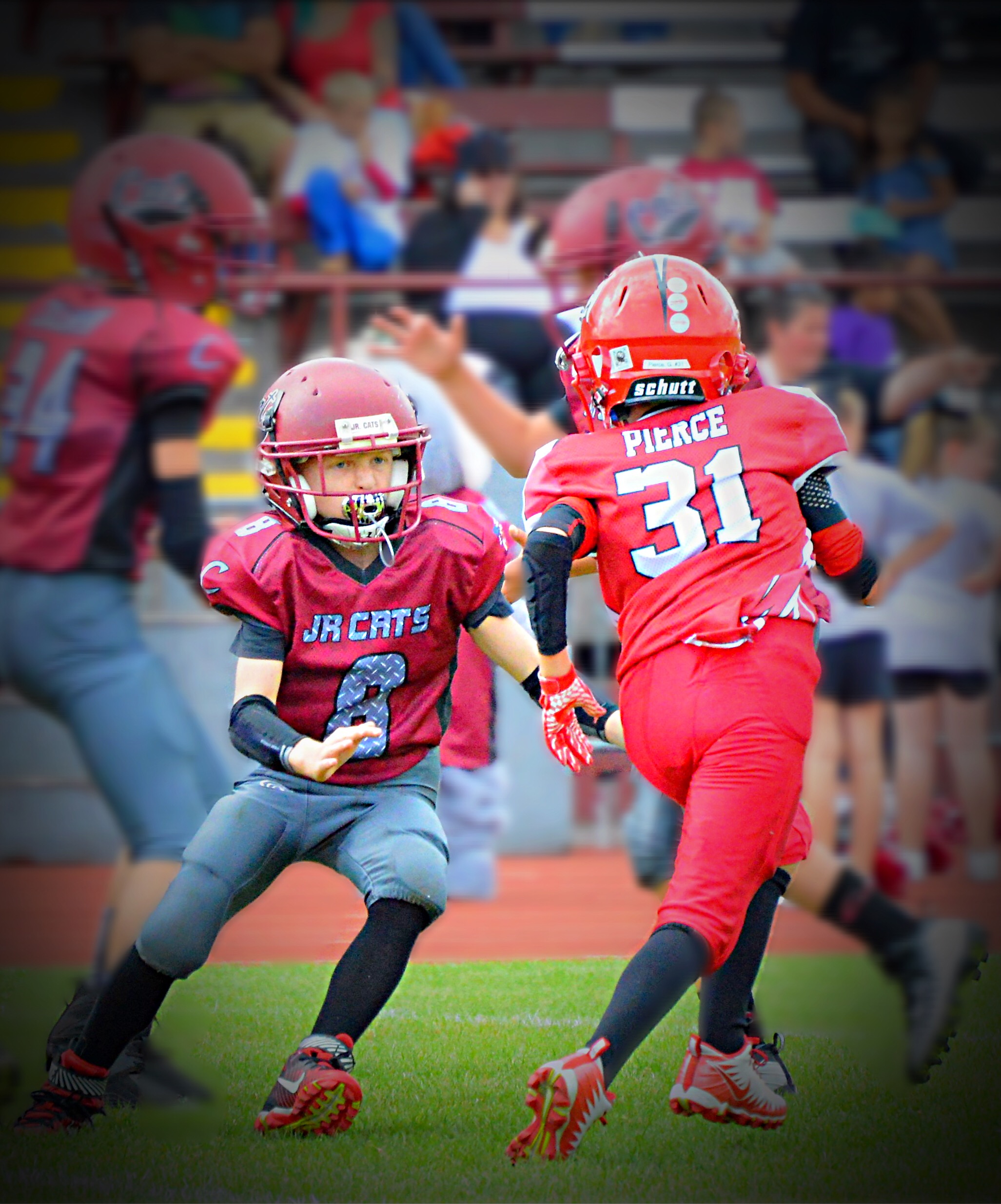 Jr. Cats Football offers kids the chance to play, work and have fun with a group of other children and teach them skills to work together. Teamwork is a big aspect of football as kids learn how important it is to collaborate with others and work towards a common goal. Football is a physically demanding game that provides an opportunity and health benefits for players to improve their speed, agility, strength, hand-eye coordination and overall cardiovascular endurance. Jr. Cats encourage fair play and always to play by the rules.  
Jr. Cats Flag Football provides a fun, recreational football experience in which players learn fundamentals, teamwork and sportsmanship while enjoying the game of football. This structure will be a base of knowledge to grow into a tackle football competitor. Flag football teaches youth some tremendous life skills they can carry with them forever. Not only does football provide great health benefits, both mental and physical, it also promotes camaraderie, teamwork, discipline, and work ethic that will help shape our children into well-rounded adults.
Jr. Cats cheerleading squads promote teamwork, sportsmanship, discipline, desire, leadership, time management and confidence building. Cheerleading involves athleticism and dedication through choreographed routines, tumbling, stunts and jumps, and includes health benefits that improves muscular strength, stamina, flexibility and coordination. The goal of Jr. Cats is for cheerleaders to end the season with advancement in leadership skills, fundamentals of jumps, stunt discipline and kick safely, but overall to have fun!
Use Code "CATS23" for Discount
Use Code "CATSFLAG23" for Discount
Jr. Cats $150 off Uniforms Discount is already applied.  No code needed.